Lorsque l'on considère à quel point nous dépendons de nos pieds, nous les traitons vraiment avec beaucoup de négligence. D'ailleurs qui d'entre nous pourrait reconnaître ses propres pieds au milieu d'une série d'autres pieds ?
Utilisez une crème hydratante
Massez avec une crème hydratante riche en passant les mains sur les orteils, les ongles, les pieds et les chevilles. Frictionner vos ongles avec la crème hydratante peut empêcher l'apparition de fissures ou de cassures.
Perfect Goal
Enlevez le vernis à ongles et assouplissez vos pieds 5 à 10 minutes dans de l'eau chaude. Ajoutez au maximum cinq gouttes d'huile essentielle dans une quantité d'eau suffisante pour que vos pieds soient complètement recouverts. Installez-vous confortablement et savourez votre plaisir.
Exfoliez la peau
Utilisez une éponge exfoliante ou une poignée de sel marin pour vous masser les pieds, afin d'éliminer la peau rêche et durcie (en règle générale à la face supérieure du pied et au talon). Mélangez deux bonnes cuillerées à café de gros sel de mer dans un pot de yaourt nature, et vous obtiendrez une formidable lotion de massage nourrissante et protectrice pour exfolier la peau. Lavez ensuite les pieds à l'eau tiède.
Limez les parties rêches 
Frottez avec une pierre ponce, une râpe à pied ou un produit de traitement des callosités les zones où la peau de la plante des pieds est épaissie et rêche. Aux endroits où l'épaisseur de peau rêche est importante, plusieurs soins de pieds peuvent être nécessaires pour éliminer complètement la corne. N'essayez pas de retirer la corne si la peau est enflammée, infectée ou si elle saigne – demandez dans ce cas l'aide d'un professionnel.
Soignez vos ongles
Coupez les ongles avec un ciseau à ongles en ligne droite (ne coupez jamais vos ongles de pieds en arrondi vers les côtés, car cela peut provoquer un ongle incarné). Nettoyez sous les ongles, là où ils dépassent. Repoussez doucement les cuticules (à l'endroit où l'ongle sort de l'orteil). Si la cuticule est dure, fragile ou très délicate, utilisez une lotion pour éliminer les cuticules. Polissez les ongles pour stimuler la circulation sanguine et la croissance d'ongles forts, en bonne santé et brillants.
Suivez ces règles de base pour que vos pieds restent en bonne santé :
The soles of the feet is a particularly sensitive area that responds to the slightest touch. A satisfactory foot massage should give you a feeling of well-being and relax your whole body.
Naturally, it is better to be massaged by another person, but you can also do it yourself.
Note: Do not massage the areas that carry lesions (eg eczema or ulcer). Avoid putting heavy pressure on the protruding veins.
Maybe you can get a massage with your partner. You can also take a foot bath, which can relax your feet and provide an energy boost.
Some tips for choosing your shoes
Many of the most common foot problems come from poorly fitting shoes. Therefore, choose carefully your new shoes:
Our feet work hard for us - do they not deserve us to do them a little fun from time to time? Various options for care may be available to you: for example reflexology, massage and pedicure treatments - and perhaps do you want to use more. We recommend that you regularly do exercises to keep your feet in shape
Massage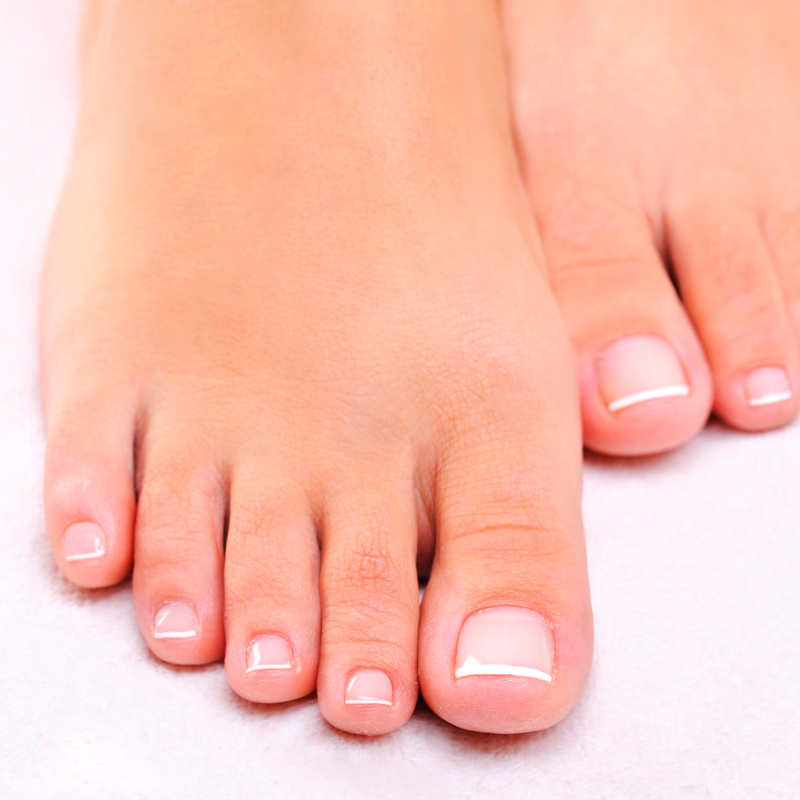 Pedicure
Your feet will thank you for submitting a proper training from time to time, eventually they are cramped all day in shoes. Try to do these exercises - they are not only good for health, but in addition you will have fun!
Stretching exercises for the toes
Place a rubber band around the toes of one foot and the toes spread. Hold the position for five seconds and repeat 5 to 10 times.
Stretching exercises for the big toes
Place a wide elastic around your big toes and pull in the opposite direction from each other. Hold this position for five seconds and repeat 5 to 10 times.
Put a small towel on the floor and try to pick up only with your toes. Hold it for five seconds and repeat the exercise five times. Then try with the other foot. This exercise is particularly interesting in case of cramps toes – it is also very useful to prevent.
Roll a golf ball with both soles each for two minutes. Is it not good? This exercise is particularly useful in case of contracture of the plantar arch.
Do you ever wondered what could serve balls? The answer is: put 10-20 balls on the floor, pick them up one by one and place them in a tray. Perform the exercise with the other foot.
If you have a sandbox in your backyard, you can consider yourself lucky. Otherwise take the opportunity when you are on a sandy beach: remove your shoes and socks and walk barefoot in the sand. So not only will your feet massaged, but your toes will be strengthened.